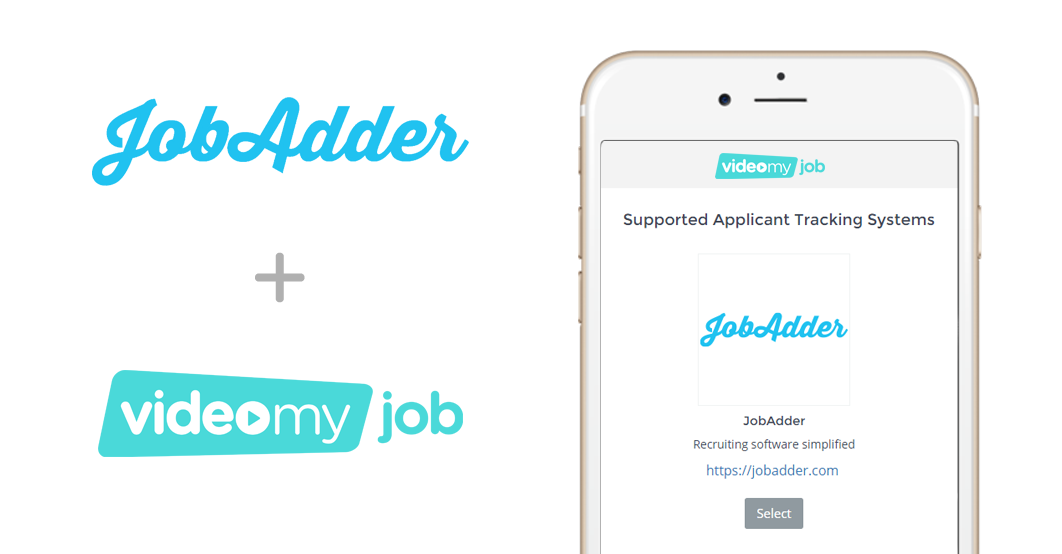 VideoMyJob and JobAdder Press Release
JobAdder and VideoMyJob bring new video innovation to candidate sourcing
Melbourne, Australia, 2 June, 2016 - VideoMyJob and JobAdder recently announced a joint integration in a move that will make it easier for recruiters to use video to source top talent.
VideoMyJob is a new, recruitment-based mobile app that allows users to create, edit and share video job ads from their mobile device. Recruiters can use the app to create customised videos that amplify brand awareness, allow them to engage more effectively with candidates and to streamline the talent acquisition process.
The integration of video functionality to JobAdder's global recruitment software platform is a unique value add. "In a world of increasing talent shortages, Job seekers want more visibility into potential companies before they apply for a role. Video adds a tremendous amount of insight and perspective into an employer that a plain text job ad cannot," says JobAdder CEO Brett Iredale.
For more insight about how this integration will work, read JobAdder's official blog post about the integration Here
David Macciocca, CEO and founder of VideoMyJob, sums up, "We are genuinely excited to collaborate with JobAdder, they are a real recruitment industry leader and a partner that shares our passion for innovation."
When an ad is created in JobAdder, users can now record a branded video to accompany the ad via the VideoMyJob app. Once VideoMyJob is activated within JobAdder, users can log in to the app from any mobile device and record a video ad to be viewed by applicants. To assist with the process, users also have the option to upload a script that will appear on a teleprompter while they record the ad. Once the recording is complete, it be can then be posted to a variety of selected job boards.
Video is a burgeoning trend in the recruitment sector that is being more widely integrated into recruitment businesses every day. The advantage of using video in the talent acquisition process is that employers are able to give job seekers a memorable insight into their business and engage the best talent.
To find out more about this integration, or about either company, please contact VideoMyJob at hello@videomyjob.com or JobAdder at hello@jobadder.com.