Trim just got more powerful, with several nifty new tweaks to give you greater accuracy and an improved user experience. PLUS the web interface is getting a make-over, get a sneak peek of the sleeker, faster and easier to use dashboard.
---
At a glance
Trim Zoom - double tap for a closer look
Trim Handles - finer lines and chunkier handles
Audio Track - enlarged audio waveform for a

more accurate trim

Performance Improvements - faster timeline loading
---
Pimp my trim
Some days we're all thumbs, if you're not an Xbox champion the action of trimming might be a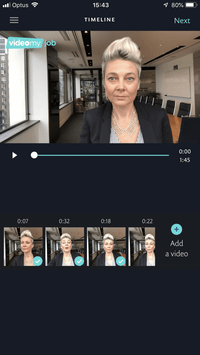 challenge. Not anymore.
We've pimped the trim feature to give you the most accurate trim, no matter how nimble your fingers are!
Trim Zoom—we've added a double tap function to the trim feature. Just tap-tap to zoom-in for a for a closer look, you can also flip your screen orientation to landscape.
Trim Handles —we've refined the line but beefed up the trim handles to help you select the exact moment to trim.
Audio Track —the audio waveform is now larger and easier to use to guide your trim.
---
The new web interface ... coming soon
Visual and UX improvements to the web interface are in Beta testing, expect to see this live sometime in March.

Here's a sneak preview of what to expect:
---
Don't forget that any of the following will stop your in-app analytics from populating:
Downloading your videos and uploading the MP4 to other channels/platforms (data from other platforms will not be visible in-app)

Publishing videos to the VideoMyJob sample YouTube channel (read more about connecting your own YouTube channel here)
---
Update your VideoMyJob app now and start using all the latest features.