Davidson pride themselves on assisting companies to prepare for the workforce of the future, this strategy informs their own business operations where they value continuous improvement and innovation. Which led them to investigate VideoMyJob in 2016.

Early adopter Cameron Norton, Principal Consultant at Davidson shares his experience of introducing video job advertising to his recruitment firm and discusses the challenges of implementation, the benefits of video marketing and the success Davidson has seen in the past year.
---
---
What recruitment challenges were you looking to solve with video?
The challenges we were looking to solve as an organization and as a recruitment firm was how to showcase the role and the client to potential candidates and prospective people looking at the job. So one of the things that really impacted us was our time. As recruiters we are naturally busy people with lots on the go and we wanted to get back to candidates in a really prompt manner, talking about the role but still having that human factor and the personalization of working with someone one to one.

So we utilized VideoMyJob specifically to really make sure we could connect with candidates and get the message out there even if we weren't at our desks or on the phone. And that really allowed us to leverage our impact and communication—getting back to people in a really prompt manner.

Key challenges we were looking to overcome:
Being able to get back to people in a prompt and timely manner

The leverage factor - being able to spread the message quickly and get it across our networks in a way which really showcased our client and the role we were recruiting
Growing a strong personal brand and presence in the market
Has video given you a market advantage?
A few months into using VideoMyJob we started to see a clear difference in what we were doing as opposed to what our competitors were doing. It was really a shift from a traditional approach to recruitment and sourcing talent - and shifting to the newer, digital world of video and connecting with people in a different way. So we were mindful of how do we really embrace that new world whilst still looking after the foundations and principles that we have set up our recruitment practice on?
When it comes to a market advantage or difference, we find that we are now able to pitch to our clients that through using video we are able to spread the message, spread the word a lot faster but also talk about what is important to you as a client or hiring manager and get you on the video as well!
In terms of other organizations that are using video, I have seen some really great results from them. I've loved seeing them talk about employee experience and not only about the jobs they're recruiting but also using video for onboarding people and internal communications. These are simple things, but with VideoMyJob and the digital platform that it is, you can really bring that personal element on a large scale.
What success have you seen as a result of video?
Some of the success we have had using VideoMyJob as our main sourcing strategy is that it has really allowed us to bring in really high quality candidates into the recruiting process. That's come through people really connecting with the hiring manager and the organization because they've seen the client on the video, usually sitting on a couch with me, having a conversation about the role. Part of that connection has meant that we are getting the culture fit as close to right as possible.
A lot of the time the skills, experience and capabilities that people bring to the role can be fairly common, but what the point of difference is at the end of the process is 'Can I actually work with this person?' So we've found that we have really been able to get that connection right for clients and ultimately, that's what success will come down to. If can get that as close to being right as we possibly can as recruiters, we think we are adding value to the process and hopefully... clients come back!
We have seen great value in:
Being able to position & advertise jobs for clients and candidates
Positioning Davidson as a leader in our space
Building a strong personal brand and reputation for a company that is embracing new technology, doing things differently but also getting better outcomes for clients and candidates
So we are using it primarily in our recruitment processes for clients, but we are looking for other opportunities to use video now that we have seen that video can make such a big difference.
Did you face any challenges introducing video to your team?
Some of the challenges we faced when implementing VideoMyJob as a tool within our recruitment practice were our own personal insecurities around getting on the camera, and I guess not wanting to appear as though we're not slick, polished individuals. There's times when we stutter, there's times when we say 'um' a lot - so being able to embrace us as individuals has probably allowed us to overcome some of those insecurities.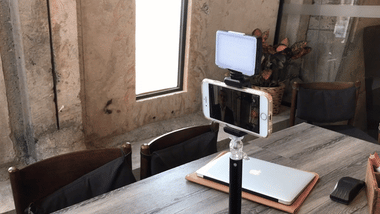 When I first started using video people would laugh and make comments. But to me that was validating the fact that I was using video because they'd seen it! So being able to back yourself and have that resilience to say 'this is something I need to be doing, I need to get good at it now' is important because the digital world is already upon us and is evolving at a rapid pace... So if you want to keep up with the market, you're going to need to be doing different things now.

---
Davidson is a recruitment and human resource consulting company dedicated to enhancing workplace performance through people. With more than 25 years of industry experience and offices across Australia, Davidson delivers recruitment, consulting and HR solutions to help organisations achieve more for, and with, their people.
Find out how video can help innovate and refresh your agency's recruitment and business development strategy.