We've had a makeover! Our new website is packed with feature info and customer stories. Log in to check out the cleaner and easier to navigate team dashboard. This is the first release, we have plans to gradually improve the desktop functionality and build a greater library of customer stories and add examples of great video content from our clients.
---
At a glance
Website: features explained, customer stories & recruitment workflow video inspiration
New look desktop: clean menu, clean design, handy icons

New look desktop a

nalytics: new summary tiles, graphs and team data
Admin tools: company and user info in one place
Responsive dashboard, access on any device
---
Website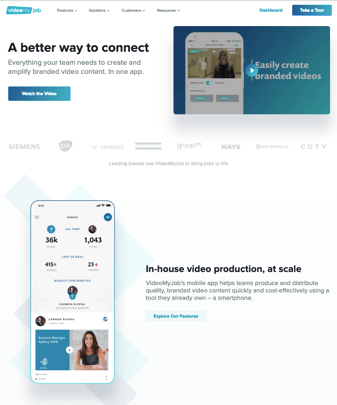 We're delighted to share the new website with our customers. The new site is bursting with information:
The website is a great way to introduce VideoMyJob to new colleagues or to promote the tool internally.

If you'd like your company to be featured in one of our Customer Stories, please drop Tamara an email or let your Customer Success Manager know!
---
The new web interface
We've given your desktop team dashboards a long awaited spit and polish, log-in via your web browser to see the update.
Improved user experience
Clean and easy to navigate side menu
Lots of white space and helpful icons
Clear labels for published and draft videos
Clear labels for public and unlisted videos
Video timestamps
Team settings: manage your team members, account settings and billing in one tab


Better analytics view for desktop users
New summary tiles: page visits, views and link clicks at a glance
Video retention graph (percentage watched)
Individual landing page analytics
Team video usage output

Responsive dashboard
Need to make a quick change to a team member's permissions, check your latest invoice or connect a social channel on the fly? Now you can, the new responsive dashboard design suits most hand-held device screens.
---
Don't forget that any of the following will stop your in-app analytics from populating:
Downloading your videos and uploading the MP4 to other channels/platforms (data from other platforms will not be visible in-app)

Publishing videos to the VideoMyJob sample YouTube channel (read more about connecting your own YouTube channel here)
---
Update your VideoMyJob app today!