Fact 1: Trying to build a picture of your team's video adoption and video performance has been time consuming (until now).

Fact 2: Not knowing how individual videos are performing, in the context of your organisation or team, has made it hard to identify areas for improvement (not anymore).
Based on feedback from you, our customers, we took those facts to our development team and challenged them to come up with ways to make video adoption and video reporting easier.

The end result is an improved web dashboard experience for the team leaders and managers tasked with overseeing and reporting on their business's video output. New analytics reports (video and team), video publishing and video library filtering have all been developed to make managing your team's account and your own videos more streamlined.

In our next phase of development we will be building and testing our closed caption editor, shared asset library and creating a greater variety of permission levels and roles to meet the complex requirements of your business.
January product updates at a glance:
---
Team Analytics
It's now easier than ever for VideoMyJob Admins to monitor account health, user adoption and the effectiveness of your team's video output.

Improved user, video and team analytics give you the data you need - in the form of easy to read leaderboards - to identify areas for improvement, double-down on videos that are driving traffic and celebrate those creators who are consistently producing engaging videos.
Per creator report: videos created, videos published, views, minutes watched
Per video report: video title, date, creator, views, minutes watched
Filters: date, views, minutes watched, creator, videos created, videos published
Filter by any date range, with common date ranges at a click
Sort by any of the above dimensions
Keep an eye out for an 'export to CSV' report option (in development).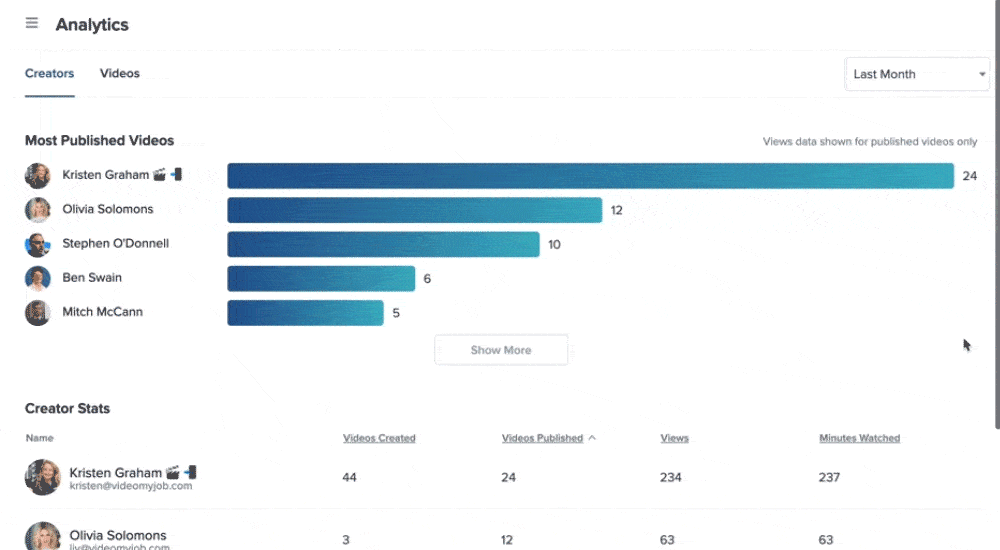 ---
Web Dashboard Publishing
When you're serious about search engine optimizing your videos (and let's face it, who doesn't want to make it easy for the right people to find your video?) it can be nice to copy and paste your carefully planned, keyword-filled video description and your call to action link (with UTM) from a spell-checked and approved Google or Word doc.

Creating more than video job ads? Us too, so now you can choose a call to action button that matches your message!

Choose from the following video call to action buttons:
Apply Now
Learn More
Contact Us
Apply with a video? Send Now (available to VideoMyTalent beta test group)


---
Web Dashboard Video Filters
For those of you who create a steady stream of VideoMyJob videos, finding a specific video has sometimes been challenging.

Now you can filter your team's videos by type and creator, as well as keywords, to help you find the video you need, faster.
---
Mobile App Update: Stability and Speed
Video editing is extremely taxing on hardware and our technology team has been working really hard on all reported issues, major and minor. Both the iPhone and Android app have been updated with major stability fixes and speed optimizations from all issues reported in 2019.

Make sure you update your app and reach out via the chat support if you have any questions or experience any further issues.
---
Coming Soon
We are nearly ready to launch the Asset Library, one of our most frequently requested features! The team asset library will allow teams to create and share folders of official images and b-roll video footage, accessible from both the web dashboard and the mobile app. Shared cloud assets make collaborating on video projects even easier by:
Preventing the loss of quality from sending large files back and forth between mobiles, email, airdrop and shared drives
Freeing up storage on the devices of individual creators
Providing Marketing and Brand teams with a shared destination for approved image and video assets
Making collaborating quicker, easier and more efficient
The new Asset Library is now being tested by a small group of VideoMyJob customers and we expect to release it in the next 90 days - stay tuned for our next product update!
---
Update your VideoMyJob app today!