Australian-based, Skout Solutions, is a joint venture under the partnership of Ventia and Randstad respectively. Skout Solutions provides innovative talent solutions in solving People and Project requirements for any organisation across Australia and New Zealand.
Already a VideoMyJob customer, Skout sought to work with VMJ's customer success team to identify ways to increase candidate engagement through video and gain better value from the VideoMyJob platform.
"It was clear that while we knew how to use VideoMyJob to create short videos, our team engagement and confidence in making videos was low, with only a handful of videos being produced each month. Over a few meetings with Evelyn, we came up with two main actions to assist our team to make the most of VideoMyJob:
One; highlight the benefits of video job ads through a demonstration video, keeping it simple and easy to put together.
Two; increase the number of videos produced by the team through a friendly internal weekly competition."

Skout's main method of advertising is through written job ads. Skout provided VMJs customer service agent, Evelyn, with an example ad, and she quickly filmed a short, 30 second video covering the key points and demonstrating how video job ads can deliver a much more fun and captivating ad than just text. And not only less work in scripting and workshopping messaging, but forcing professionals to realise the need for casual and conversational language.
Skout quickly took the video concept in-house and presented it to key stakeholders as an example of what could be done, and the feedback was overwhelmingly positive.
"We also gave the team a challenge to create a video promoting a current opportunity, and each week a winner would be selected based on views and engagement. Safe to say, a team of recruiters is a very competitive group!
This incentive, combined with the text-to-film exercise, has led to a tripling of our video production. And a significant increase in views and engagement.
Our ads on Facebook that include a video tend to have well over four times the views, and at least double the click-through rate."
Skout Solutions saw as high as four times the amount of engagement on their video jobs ads when posted on their organisations Facebook profile.
Threes time higher video content production and output on video content created for advertising new roles.
And, two times the increase on click-through-rate (CTR) on job ads where video was positioned as the featured content piece.
The Facebook Job Ad Campaign
As of September, 2022, Skout had 2.9k followers (September, 2022)
"We posted a quick video of our lovely Karleeanne Davis recently for a supervisory role, and it has reached over 2800 people after just a few days. With a quarter of these views (almost 700) engaging with the video, and 50 people clicking through to the job.
This included a paid sponsorship of $40 to Facebook.
As a comparison, another post we sent out on the same day that didn't include a video was sponsored for $40, reached 2300 people, had 124 of these people engage with the post, and 32 clicks through to the job."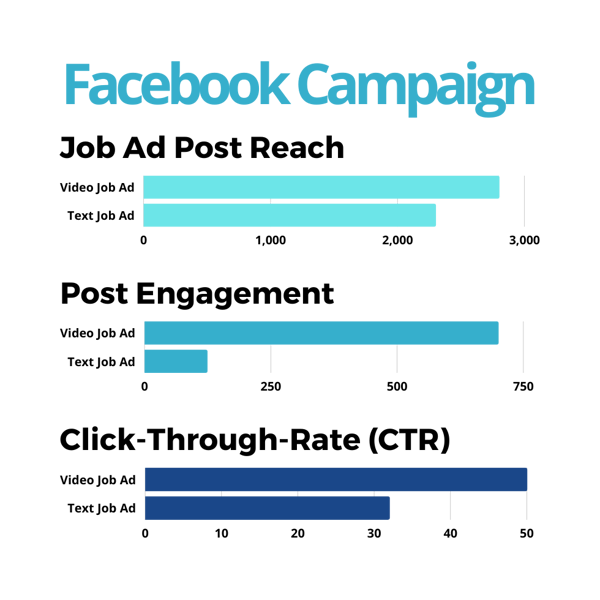 The LinkedIn Job Ad Campaign
As of September, 2022, Skout had 2.5k followers.
In general, Skout has slightly less success on LinkedIn, but also does not do any paid advertising and has a lower organic presence than their Facebook profile.
The below video was viewed by just over 700 people, with only nine clicks, however, Skout had some great shares around the wider business. Video job ads are proving to be a great asset in fast-tracking social media platform growth through higher engagement.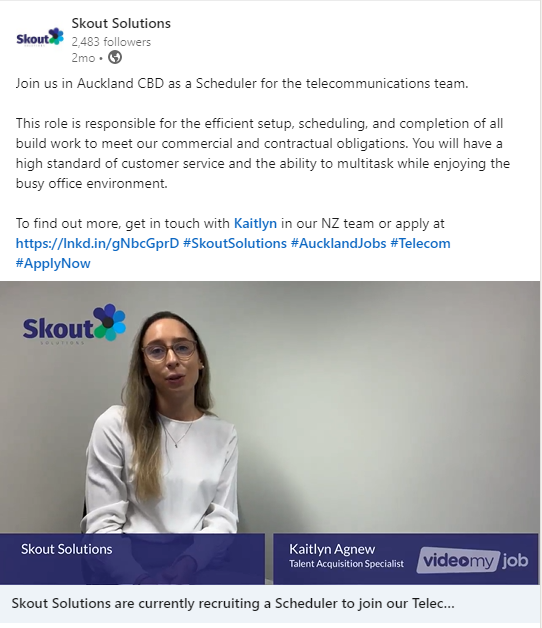 Video-Driven Internal Communications
In addition to video jobs ads, Skout solutions use the VMJ platform each Friday to send an internal weekly check in with the general manager.
"Since starting these a few months ago, we have received great feedback about how engaging and entertaining these updates are. They're usually only a minute long, include some sort of anecdote from the GM's week and recognises a win for the week.
For us, these are a great demonstration of the power of video, as the engagement and responses from the team is so much higher than if it was just an email."
Through not only the VMJ platform, but the high-impact relationship Skout has with their customer success managers, their ability to pivot to video job ad creation and publication was incredibly fast and efficient.
"Overall, this has been a simple but incredibly effective exercise with very tangible outcomes. We're stoked to be working with Evelyn and the VideoMyJob team and can't wait for what's next in store."