It was such a pleasure chatting with Fiona for our Power User Spotlight. She's the GM of Marketing and Brand Experience at HorizonOne Recruitment where she's been helping to successfully disrupt the recruitment industry by changing the conversation with a fresh, marketing and employer branding led approach, and partnering with organisations to create award-winning recruitment marketing campaigns.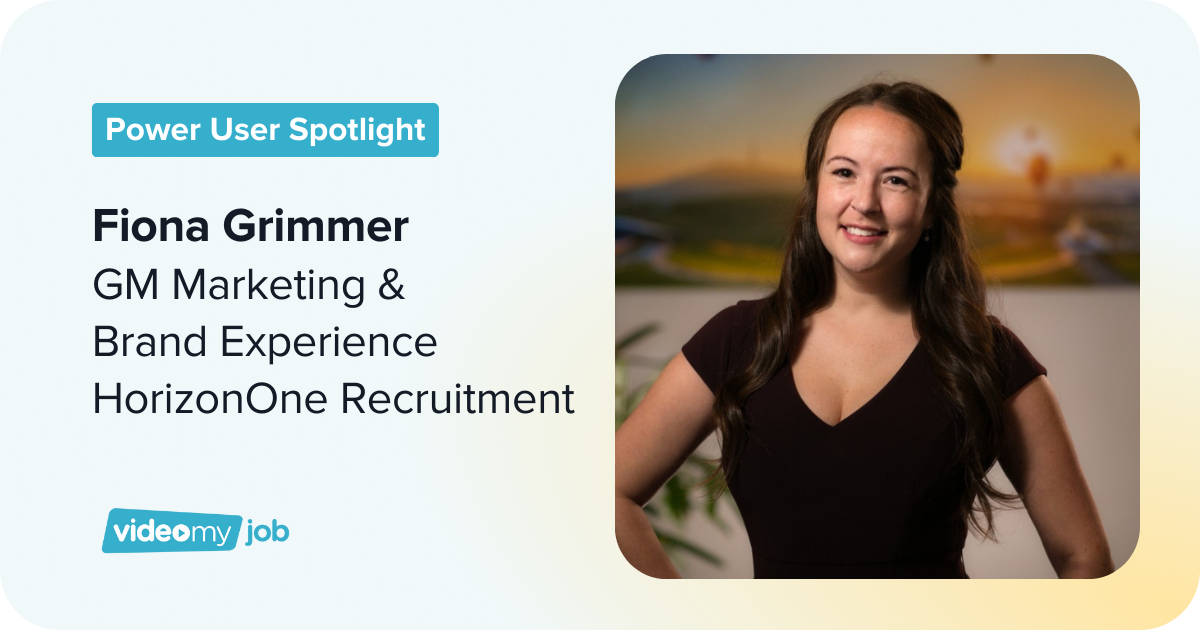 Q: Fiona, can you give us an overview of your role and your team?
Yes, so I'm the GM of Marketing and Brand Experience here at HorizonOne Recruitment, and I have three other people in my team. We have the Marketing Brand Manager and Coordinator focusing on HorizonOne's marketing and brand initiatives, and then we have the Community Manager who looks after the candidate experience - building and strengthening our communities and improving how candidates engage with our brand on an ongoing basis.
Q: And can you talk us through the problem/s you were trying to solve in the lead up to implementing VideoMyJob?
Many years ago we were already using videos to promote jobs, but the challenge we had before getting VideoMyJob was that we didn't have an easy way to do this. Instead, we had a full production set up - camera, microphone and lights! It meant that any videos we created took a while to film, and then even longer to edit it, put it all together, sync everything up, and make it usable.
For us, one video was almost a whole day's worth of work, which meant we rarely filmed content because it just wasn't worth the effort.
When we first heard about VideoMyJob, it was like "WOW"... this is such a simple way for us to create video content quickly and easily!
Q: And what was the implementation process like once you got VideoMyJob onboard?
It's interesting because it's been a number of years since implementing VideoMyJob into our business, so we've kind of gone through two waves - we had the initial introduction with a select group of our consultants, and then in the last 12 months we've had a new wave of consultants, so we needed to go through the process again internally, but in a slightly different way.
In the first wave we got great support from the VideoMyJob team who ran webinars for our consultants and provided training. We then got our consultants to do a bunch of practice videos before we publicly published anything.
We have a centralised process where everything comes through our marketing team, so none of our consultants edit or post videos on their own and they have a lot of support when it comes to script writing and filming. This was especially important in the beginning while everyone was getting comfortable filming videos and using the platform. We would get them to do a certain amount of practice videos, we would then provide feedback and then when people felt comfortable and ready, that's when we would start publishing their videos.
I know this process sounds harsh, but it avoided anybody feeling like they were thrown in the deep end, and then not being happy with the videos being produced or not wanting us to share them because they found them embarrassing or not a good representation of who they were as people. Instead, we gave them time to build up their confidence in front of the camera and feel comfortable seeing themselves on video before sharing the content out into the wider world.
Our business has grown so much since we first implemented VideoMyJob, so with the second wave, we didn't need much support from the VideoMyJob team because we already had a few "super users" in the business. Our Super Users were therefore able to help provide guidance on how to use the platform, and their videos could be used to show what the end result looked like. It was great to see our Super Users take on an almost mentor role for people newer to the organisation where they could share their tips and lessons learnt from their personal experience.
Q: It sounds like the students became the teachers in your situation! Can you share a little more about how your consultants are using the platform?
Our main use case for the platform would be for Job Ads, but my team's created a video program for a number of our consultants where they do four videos a month... so one video a week. That generally includes two job ads, one "star candidate" video, and then one market update. They then add this to their LinkedIn.
A job ad is self-explanatory, but the "star candidate" piece is where our consultants create videos showcasing their candidates. For example, they'd be like "look, we've got this really great finance officer… they've got this type of experience, and if you're looking for someone like this then please reach out!"
We also have a number of consultants whose video program includes a market update, so they do a one-minute video giving their community an update on what's happening in their market or industry.
We've also used VideoMyJob for co-branded recruitment partnerships with clients in the past. That's where we would go out to the client, film a few people and have a HorizonOne consultant do a Q&A style interview with the hiring manager. We'd then splice the content together and this worked really well to not only showcase the opportunity but the client's employer brand.
Q: And can you share any wins you've gotten from the initiatives you mentioned?
A recent one that springs to mind is where a consultant told me they were out at a cafe around the corner from our office and someone came up to them because they recognised them from the videos they've created and shared on LinkedIn.
The pure excitement she had was amazing! She'd been working really hard on her videos and building her personal brand presence on LinkedIn, and it clearly paid off.
Using video has been really effective in helping our consultants build their personal brands on LinkedIn. Video provides a more human element compared to just having the consultant's name and photo up on a website or ad.
I think even if you're not getting the engagement on LinkedIn in terms of likes, we really notice the impact when candidates or clients come into the office. They will often mention that they've seen a video of the consultant, which makes them feel like they know a little bit about them already. It's like a personal connection has already been established before they've met face to face.
The real win for us at the moment above and beyond the engagement that you get from likes and views, is that our consultants are able to build personal connections using video. That means conversations tend to be warmer from the start.