57% of talent teams already have a video recruitment strategy. Of those, 95% plan to spend as much, or more, on video in the next 12 months. What does that tell you about the state of video in talent today? We think it's very healthy. And it's only going to get better. Effective marketers are storytellers, and storytelling is a new skill for recruiters. Stories need to strike a chord with candidates, finding the right balance between authenticity and Insta-perfect will take awhile, but it's already well under way.
As we learn to tell our employer brand stories, take risks (not everyone will like us 😱) and create content that actually attracts potential employees to our talent brands, return on investment will skyrocket. It's already very positive, with 85% of talent professionals declaring that they are getting good ROI from video already.
How do we know this?
The largest ever global survey into video in talent
In May 2019—tired of quoting B2C statistics when we were dying to talk about the impact of video on candidates and recruiters—we teamed up with our buddies at SocialTalent and developed a big old survey (47 questions if you don't mind) delving into the use, and impact, of video in the talent industry.



We took a broad approach, looking at the use of video across recruitment marketing, job advertising, candidate communications and employee engagement. We asked which social platforms were delivering and where you planned to spend your hard-won budget in 2020.
604 submits later, we're excited to share our findings with you!


Video killed the radio star
Video hasn't just killed the radio star. It's killed the TV star too. This year, for the first time ever, we are spending more time on our mobiles than we do watching TV. By 2020 (that's next year folks), the average person is expected to spend nearly half of their total online time watching videos.

So it felt like a good time to quiz people in the business of attracting and engaging with talent about their current strategies, and their future plans, involving video.

The survey made it clear that video is now firmly embedded in the recruitment marketing strategies of many talent professionals, who are seeing a strong return on investment (ROI) from video content.
Video is key to pulling in candidates and driving inbound traffic
The State of Video in Talent revealed that candidate attraction is still a recruiter's biggest challenge, and it's one of the reasons why recruiters are using more video content. Video helps candidates have a digital experience that is close (but way more scalable and economical) to meeting an employee in person.


Effective recruitment videos are far more than job advertisements in digital clothing; videos help candidates to picture themselves at your company and witness your employee value proposition in action. Video creates experience and engagement for candidates, allowing them to interact with your company from their device, no matter where they are. The most successful recruiters use video content to 'show, not tell' company culture and values.
Employees are your most trusted messengers
In today's social media-dominated world, job seekers don't expect recruitment marketing videos to be Netflix quality. Over-produced videos are more likely to arouse suspicion with those accustomed to the quality of peer-to-peer video. In fact, 68% of our survey respondents say that employees are the most trusted people to explain a company's employee value proposition and benefits. Unless you're in the business of employing out-of-work TV actors, that means your perfectly imperfect colleagues are exactly who your audience wants to meet online; warts, umms and all!
48% of respondents said they would most like to learn about a job opportunity by speaking to a recruiter or an employee.
Video makes it possible to get those trusted advisors—your employees—in front of candidates, and working around the clock (jokes, the video is working around the clock, not your staff). But that's no doubt one of the reasons why recruiters are finding that video delivers a solid ROI, and why they're planning to spend the same, if not more, on their video strategy in 2020.
Video finds people recruiters can't
Video is now firmly embedded in recruitment marketing, with more than half of our respondents reporting that video is part of their current strategy. Video helps raise the personal brand of recruiters and company's leaders, increases website traffic, drives click-through rates from digital advertising and increases awareness of your employer brand and EVP.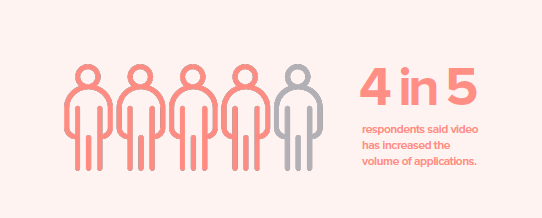 It's clear from the quality and volume of survey responses that recruitment professionals the world over have recognised that video influences:
Employer brand awareness, with both active and passive candidates
Candidates engagement, by providing rich content
Ultimately, job seeker and passive candidate conversions
What the survey results demonstrated beyond a doubt is that video is no longer a 'nice to have' —it's key to pulling in candidates and driving inbound traffic. Recruitment professionals have recognised the trend to video early and are investing to ensure they can maintain an edge in the white-hot talent war of 2019—and they believe it is worth it.
---
Have your say in the 2021 State of Video in Recruitment Marketing survey for the chance to win! You'll also receive exclusive access to the report findings first, helping you benchmark your company and approach with other talent teams and recruiters around the world.