You know the saying, the best things in life are free? Well, that may be true when it comes to friendships, hugs and sleep. But if we're talking video to enhance your recruitment marketing strategy—which we are—then you probably want a tool that meets your business needs, not just one that's easy on your wallet. Introducing video into your content mix can enhance all stages of the candidate journey. From increasing awareness around what your company does and consideration of how a candidate might fit in, to spiking interest in company culture and conveying the ease of applying for a job.
Our research supports that the majority of the talent industry (57%) has already adopted video and 95% plan to spend the same or more on video in 2020. Frankly, if you want to avoid being left behind, now's the prime time to dive in.


Which mobile video production app is right for my business?
More and more solutions are surfacing that turn the little piece of hardware in your pocket (smartphone) into a powerful video creation tool. But before you adopt the technology let's consider where you're at in your video journey.
If you just want to dip your toe into video and only focus on better filming, editing or collaborating, then there's a free solution for each of those priorities. But if you've drunk the Kool-Aid and are swayed by the stats then you probably want a premium video app that allows you to do all three and much more.
To help you decide which technology is right for your business, we've broken down the key features that will help you differentiate between free and paid video solutions.
Professional quality business video creation
In 2019 it's possible to capture high quality footage right from your smartphone, but hitting record is not the tricky bit. It's you—or your colleague—staring down the barrel of the camera like a stunned chicken. Most of us can't just hit record and get our exact point across on the fly, that's why there are video app features that help with this process.
Introducing the almighty teleprompter; a beloved feature of the VideoMyJob app and one that's been executed well by other solutions. A helping hand when it comes to setting up a frame, planning a script and delivering content to camera can go a long way when the nerves kick in.
Free mobile app teleprompters
Are you trying to film a quick message to camera but keep getting stumped? You might just need a teleprompter tool to get it done. BigVu is a free solution that helps you create video from your smartphone.
Their teleprompter app includes custom font size, speed manipulation and horizontal or landscape orientation. Draft your script on the desktop then send to the app for recording, capture several takes and select the best version to be uploaded to the cloud. This free solution allows you to produce a few videos a month, with a BigVu watermark (a transparent BigVu brand mark throughout your finished video).
Premium mobile app teleprompters
If you like the sound of the teleprompter but want more hand-holding when it comes to video production, then premium is the way to go. The VideoMyJob film features are designed to help you capture footage with confidence. The teleprompter tool is a core feature in this section, the script library allows you to store, edit and collaborate on scripts and then adjust the font, speed and scrolling speed during filming. You can even film in sections, scrolling back to the point you fluffed your lines or paused to retake a section.
Our premium app also includes a spirit level to ensure your smartphone is straight and on-screen guides to help you position yourself for optimal audio and lighting. You can film your video in sections with the film more feature, continue adding content without ever leaving the app. These bonus features can help you master your camera presence and stand out with quality.
Related topic: Mastering the Teleprompter
Mobile video editing suite functionality
If support with capturing footage isn't a huge priority and you're ok with filming straight from your smartphone, let's look to editing. Having a sophisticated editing suite can make a world of difference when it comes to producing content that's high quality and quick to turn around.
But with the volume of free and paid editing tools on the market all claiming to be the best, who is actually cutting it? When looking at smart functionality, workflow ease and extra trimmings, here's our pick.
Free mobile video editing apps
The official Apple software originally released in 1999 has come a long way. iMovie provides the basic, no-frills editing tool you need to put together a video from a set of clips. Available on both mobile and desktop operating systems, users can transfer videos from their iPhone to Mac for ease of editing or even export to Final Cut pro if you're going full Hollywood.
When you import your footage to iMovie it automatically separates the scenes into clips, this is one of it's greatest features. The software allows you to add captions, transition titles and credits, overlay b-roll footage and export as a Quicktime file. Upload and share at your own discretion.
iMovie is a fantastic free solution and if you're reading this blog on a Mac then you already have it installed. Windows users, you have Windows Movie Maker, which does pretty much the same thing.
Premium mobile video editing apps
Now if you're like us and don't have hours to spend on editing one video, you may want to consider paying for a more templated solution. VideoMyJob's editing suite is pre-loaded with all of your brand colours, fonts and logo, eliminating the need to fiddle around with the visual identity so you can focus more on the message.
Film your footage then trim, splice, add photo and video overlays, text captions and more without leaving the app. Transitions are automatically added between clips for seamless viewing and you can choose between a number of video thumbnail cover designs to help you capture the attention of your audience.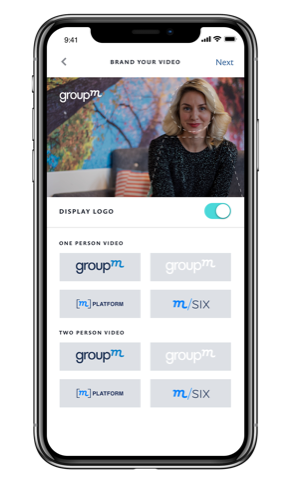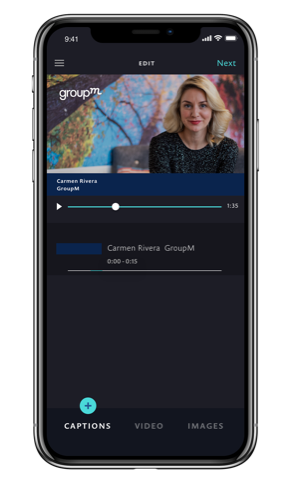 Video project collaboration
A tip before you jump straight into filming is to start at the end—what kind of video do you intend to make and where is it for? Nutting out these two things will determine if it's a video you can produce with existing b-roll or whether this calls for some team collaboration.
More often than not you'll need something new, and probably from a colleague who doesn't conveniently sit right next to you. Using a mix of footage from a variety of angles and personalities can help you successfully engage and retain your target audience. So how do we produce such a video? Let's spotlight the tech solutions that pride themselves on team spirit.
Free mobile video production collaboration software
With the aim of de-stressing what has classically been a friction-filled process, Wipster makes video collaboration simple and inclusive. However, you will need to film and edit your video content using another mobile application or desktop software solution.
The user experience is centralised around a dashboard that gives you full transparency on all video activity in your Wipster account. At a glance see what videos were recently uploaded, comments formulated as a to-do list and determine who is doing what in the team. Although primarily desktop, there is an app that allows you to review and approve on the go.
Premium mobile video production collaboration software
VideoMyJob was built by recruiters for recruiters, so we kind of know a thing or two about the average talent professional's workload. You understand that video needs to be a core part of your recruitment strategy but you don't have the capacity to produce all content on your own. That's why we developed the inbox.
Our inbox feature prioritises team collaboration by allowing anyone to film remotely and then send the footage to one person for editing and sharing. This feature encourages communication between teams, allowing you to send instant feedback, approvals or request more footage.
VideoMyJob also allows account admins to set publishing permission for each team member, ensuring only those with the right permission level are able to approve and publish videos to your YouTube channel, Facebook company page and other distribution channels.
We are about to launch a shared asset library for teams, making collaborating on projects even easier with account-wide access to approved video b-roll and supporting images.
Building a business case for video production investment
Getting company buy-in can be one of the biggest challenges once you realize that video is no longer a 'nice to have'. You and your immediate team may see the value but convincing your executives can be tricky. If creative boundaries are loose within your organisation then influence the buyer decision maker by just getting started. Adopt a free solution that meets one of your biggest needs—filming, editing or collaborating—and begin to show the value with action.
However, if you know that governance, permissions, analytics and brand integrity are all important for your company, then the business case for a premium video app has already built itself. VideoMyJob is everything your team needs to create and amplify branded video content at scale.
It's the most cost effective way to help you produce engaging videos for every stage of the candidate and employee lifecycle. With 85% of talent professionals declaring that they are getting good ROI from video already, time is most definitely of the essence.
Whether you adopt a free solution to help you get the ball rolling and present a business case for time savings with a premium upgrade down the track. Or can pay for a product that can do it all right from the beginning - it doesn't really matter. Adopting video is a journey and we're all aiming for a different destination, the most important thing is that there's no better time to start than right now.
---
Do you have 90 seconds to spare? See how VideoMyJob makes the complex task of creating branded video simple.