Yep, it's true. We launched the world's biggest study into the use of video in talent on the edge of a post-pandemic resignation boom—let me take you on the ride.
In April 2021, the economic bounce-back was flooding the news. Many businesses had survived, some thrived, and recruitment was being ramped up once again.
With 225 million full-time jobs lost in 2020 and an unemployment rate peaking at 14.7%, it seemed that the power had shifted back to employers—but only for a brief moment.
There was a groundswell of movement bubbling below the surface. Employees were starting to seriously analyze their company's response to the pandemic; their empathy, treatment, and action (or lack thereof). Some were reconsidering careers, their priorities and most importantly their values.
And in July 2021, 4 million Americans willingly quit their jobs - *cue gasp* - The Great Resignation has officially hit and it's gearing up to reach the rest of the world very soon.
Talent professionals are in, what feels like, a neverending tug of war between attracting new talent and retaining current employees. This battle is evident in the latest State of Video in Talent report, but before we dive into the competing priorities and strategies for talent acquisition, employer branding and recruitment marketing, let's go on a two-year journey through the use of video before 2020, during COVID19 and now The Big Quit.
What was the use of video in talent

before

COVID19
In 2019 we had a big realization. There was plenty of data that showed how well video works in consumer marketing, but when it came down to the talent industry's efforts to engage candidates and employees, it was a struggle to find any useful insights into the impact video was making.
So we set out to gather industry-specific data to help talent professionals benchmark their video activity, and assist future video innovators to build a case for getting business support and investment (no matter what production method, tool, type of videos were being created).
And the results were staggering! We found that 57% of talent teams already had a video recruitment strategy and a whopping 85% believe that video provides a good return on investment.
Overall the survey results demonstrated beyond a doubt that video wasn't just a 'nice to have' —it's key to attracting candidates and driving inbound traffic. Recruitment professionals had recognized the video trend early and had taken steps to maintain an edge in the white-hot talent war of 2019.
The findings formulated the first-ever industry report of its kind, and it served us well until a pandemic sent the world into lockdown and work as we knew it changed forever.
How the use of video in talent changed

during

the global pandemic
There was no denying that the global pandemic fast-tracked the remote-work revolution and drove digital change for most organizations.
In March 2021, VideoMyJob customers created a record-breaking number of videos. The majority of those were video job ads (48 percent), but recruitment process (10.5 percent), new-hire welcome (9 percent) and employee story (6 percent) videos were also extremely popular.
Outside of the VideoMyJob Community, many companies expanded video communication into everyday work practices, leaders valued the importance of showing up on video more, people teams worked hard to keep their colleagues connected and as all meetings shifted to Zoom - my colleague Dave Cervelli would say 'you're on mute' quickly became the catchphrase of the year.
It was clearer for talent teams not using video, that an update to the status quo was overdue.
So we closely reviewed the 2019 survey with fresh eyes, which in essence communicated the ''why'' behind the video and made a decision to re-focus the 2021 research to learn more about the ''how''.
We were seeking to understand the current video strategies driving results for talent teams, the maturity of their technology adoption, and the ways in which the pandemic has impacted their content priorities.
The mission was to hear from as many talent professionals as possible with our 30 question survey. I compulsively hit refresh on the survey results as we worked our way to 711 responses from 40+ countries over a 3-month survey campaign.
After the collection was complete, we created a vision for the report -"a tactical roadmap to help video-heroes in the making better navigate The Great Resignation with employee-generated content."
How talent teams can use video to

survive

The Great Resignation
The newly published State of Video in Talent 2021 report is basically your map out of video overwhelm or stagnation and towards a more sustainable strategy.
It looks at the top-ranking business drivers and use cases for video, the topics and channels driving ROI, as well as the biggest recruitment trends.
50% use video to enhance the candidate experience and/or better attract top talent
45% have added videos to candidate communications for stages in the recruitment process
Employee stories and job ads are the most popular video types
YouTube and LinkedIn are the preferred video-sharing channels
The report is segmented by video adoption maturity so you can self-identify and benchmark your talent team against the rest of the industry. We also look at the differing strategies by organization size, the unique benefits and common video challenges in 2021.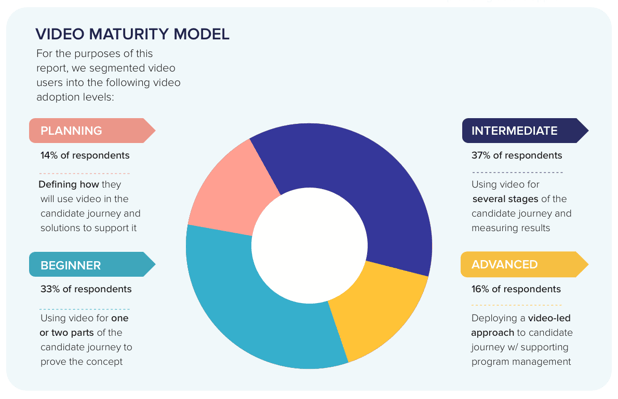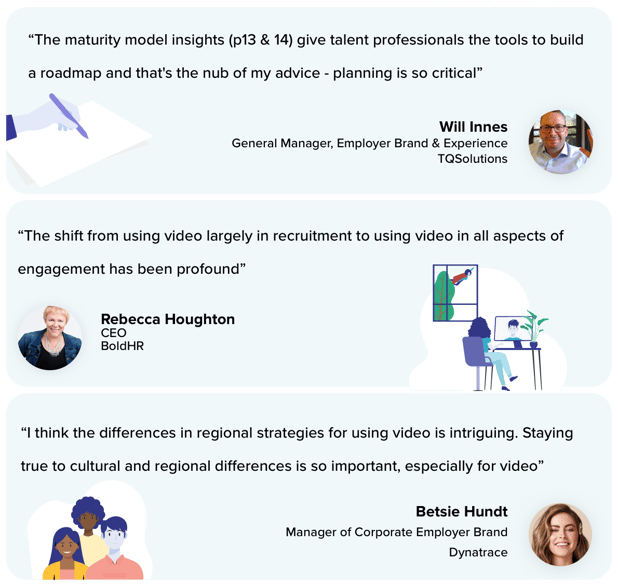 Regardless of where you are in the world, employee unrest is a real issue. Whether you're seeing retention rates drop already or preparing for them to take a hit, using video to personalize your communication strategy can help you navigate this post-pandemic resignation boom.
So read the report, take inspiration from your peers and elevate the authentic stories of your people like a true video hero.
---