In May 2019 VideoMyJob's 150 customers created 2064 videos. That's an average of nearly 14 videos per team, per month! This video production total is growing every month as our customers adopt employee-generated video as a 'business as usual' practice that is an indispensable part of their communication strategy.
When we began to develop our video making business app, our mission was to help recruiters enhance job postings with video job descriptions. Since our launch in 2016 VideoMyJob's mission has become so much more ambitious than that. Led by our users, and indeed our own team's adoption of video as an effective internal communications, sales messaging and branding tool, we have expanded our mission.
Our goal at VideoMyJob is to help people make better connections, with video.
With the VideoMyJob video making app, in-house video creation has never been easier. Our enterprise features; video branding, governance, permissions and collaboration are designed to reduce the risk of creating employee-generated video at scale.
Our core features; guided filming, simple editing and in-app video sharing create a seamless video making experience for everyone. Which is why our customer's weekly video production output trend looks like this: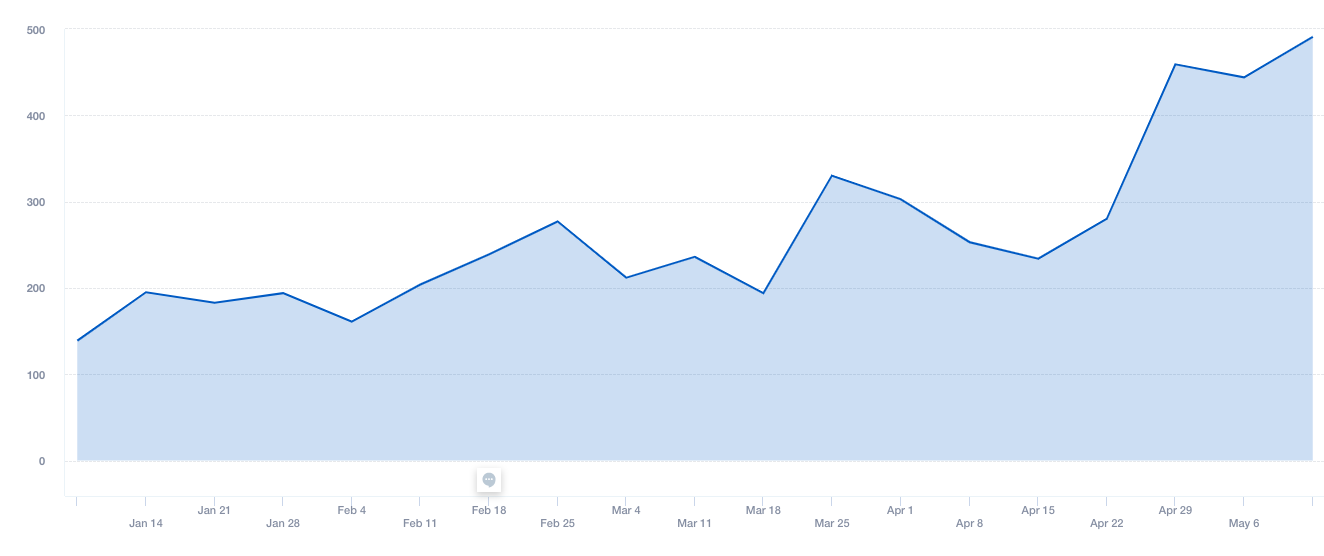 Economies of scale in video making
So let's do some basic math, let's say on average you are spending $1000 per video with your outsourced video provider, which could take anything from a week to 8 weeks to get ready for distribution.
VideoMyJob customers are spending, on average, $106 per video, with an average production time (from filming to publishing) of 27 minutes. Of course, this doesn't take into account time for script writing, location scouting or the logistics of lining up your hiring managers or colleagues for filming, but you get the picture. The contrast is stark.


Now of course, we are not arguing that employee-generated video can replace all of your video needs. There's a time and a place for professional video and your strategy will dictate which option is the best for your desired distribution channels and outcomes.
A majority of consumers around the world (56%) say they now trust local brands over global brands—up sharply from 43% in 2015. This presents businesses with both a strategic challenge and a great opportunity to connect with employees, consumers and job seekers in a meaningful way.
So what we are arguing, is that in today's content-hungry world where consumers (aka job seekers) are suspicious of 'official' messaging—and actively searching for evidence of your company's values, benefits and workplace culture online—there is a huge opportunity to counter this distrust with authentic and insightful employee-generated video.
The latest research from Indeed reports that a lack of online presence provokes automatic suspicion in 77% of job seekers. So why not make it easy for them to trust you? Show the faces of the people who work at your company. Put yourself, and your people, 'out there'.
With VideoMyJob there is now a low risk, low cost-per-video solution that can help your business accelerate 'out there' in a way that was previously unaffordable for all but the most bankrolled of major brands.
VideoMyJob imposes no limit to the number of videos produced or the quantity of videos hosted (via free video hosting platform YouTube). The world of video is now your oyster. Is your business ready to leverage the economies of video at scale?
---
Ready to talk to one of our video solutions consultants?