Spoiler alert! A video job ad script is not a 'copy and paste' of the written job description, aka JD. Why? For starters, the way you express yourself when writing, can sound very different to the way you talk.
If you don't believe me, grab a recent job ad and read it aloud. While you're at it, simply ensure that it is authentic and rolls off the tongue. Tricky much? Yup! It's time to add 'script writer' to your own JD.
Planning
Getting the structure down for script writing will help you switch into video mode. Think of your content as a story. A good story has a beginning, a middle and an end and great video scripts have the equivalent in a HOOK, a WIIFM and a CTA.
1. The hook
What's the standout fact about this opportunity likely to grab a candidate's attention? Your hook should take no longer than 10 seconds to communicate and less if you add overlays (editing) like text captions and images to support your script. This means 25 words or less.
2. What's in it for me?
These are your key points. Aim for two or three. Until you get your wings, 2-3 points will help to keep you on track, your message clear and your video succinct. Think of your video as the front window in your shop. Display the things that call people to attention. Your points might include the work culture, the transformation ahead, the challenges, the close-knit team, the hours, salary or flexibility.
Consider how you would actually talk about this opportunity in real life as if a potential candidate was in front of you right now. Type THAT!
3. Call to action
Next steps. What happens after your video job ad ends? Will you include a link, or should candidates email you their CV, or perhaps visit the careers website? Make sure you ALWAYS have a call to action, directing candidates to the right place. Similarly to your hook, keep it to 10 seconds.
The secret to an engaging video job ad is NOT to read the position description aloud. Create a conversational overview of the highlights (e.g culture, impact, leadership) and leverage your filming locations to give viewers some real insight into the workplace and people.
Style
Experiment with different styles, here are several we've come across that effectively communicate the benefits and make the viewer want to click the 'learn more' button!






For downloadable script templates, head over to Help Hub.

Writing
Keep your scripts brief, follow the Hook, WIIFM and CTA format above and leave the lengthy list of skills and legalese to the written job ad on your careers page or job board.
Before you start recording, read it aloud. Anything that doesn't flow, rewrite it until it feels comfortable in speech. This will keep your script authentic!
Don't aim for perfect delivery, just be real. Treat each take like you're talking to someone you respect and someone who wants to hear what you have to say.
Avoid jargon, acronyms and remember that although text JDs are written in the third person, video job ads are always in first. Make sure you're saying 'I', 'We' and 'Us' !
Now it's over to you. Have a go. Write, speak it aloud and repeat. Practicing will fine tune your script writing skills.
Technique
First timers - write your script a day (or two) before you intend to film. It'll give you time to play, tighten things up, or ask for feedback first.
Grammar is your delivery guide! In the teleprompter press 'return' after your grammar points. That's right, a new line after every comma and full stop will allow you to present with a sense of ease and pace. A new line = a new breath!
Also, press 'return' a few times between particularly large chunks of dialogue or between your hook, WIIFM, and CTA. See what works for you.
Becoming teleprompter fit, comfy in filming environments, and seeing/hearing yourself on video, can take a little getting used to. We've been there too and we know, like most other skills, they only get better with practice.
Planning your video job ads will help you feel prepared and increase 'user' (that's you) confidence. Using techniques will help improve your video practice, your output quality and keep you on track when you run into obstacles like self-doubt and the common "I'm too busy" or "I feel awkward with a camera there" deterrents.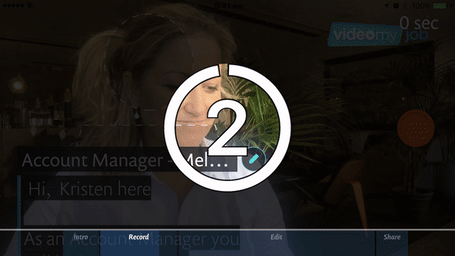 ---
Keep it real, practice, do the prep and soon enough, you'll start to see the improvements and will realize that you could have been creating video job ads a long time ago!
Need more help? Head to our Help Hub to access our range of articles and videos filled with tips and inspiration to help you film professional and engaging videos!