Welcome to our three part series on 'Making Your Best Video Job Ads'.
VideoMyJob is made up of easy to use technology and includes great features and functions that enable you to create engaging video job ads. The app allows you to add your company logo and branding, and add overlays with relevant and personalised captions, images and 'b-roll' footage to piece together your succinct message in the perfect video job ad. To help you create engaging and authentic video job ads we've put together a three part series blog as a guide for you! We will touch on all the other elements that aid to making your videos really stand out.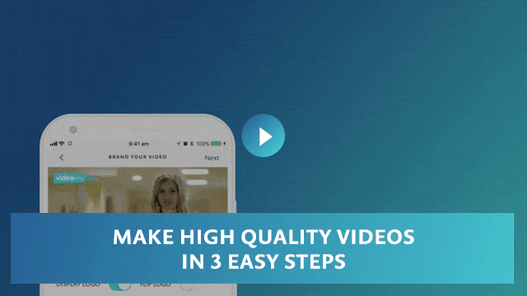 The series will cover how to structure your content, how to achieve the best technical set up for filming and finally, offer some presenting tips to make sure you and your video job ads look great.
(For extra help check out our How-To videos here: HOW TO📱)
Content
One of the major benefits of using video to advertise your jobs is that you can really engage jobseekers - it's more personal and a much better way to share insights about the job, the team and the company.
Video is a compelling way to communicate, and our tips can help you structure what to say to make sure you get all the facts across whilst keeping the audience interested. It's just a guide, but a good place to start if you're new to creating Video Job Ads.
1. Introduction - 'Hook'
Start your video with a 10 second 'hook'. The aim is to introduce the opportunity or purpose of your video. Videos should go for 60-90 seconds (or less!) and remembering this from the start will help you to keep your videos sharp

Succinctly outline the role and it's location. Perhaps include if it's full time or contract, in a team of how many or even include the expected start date. You'll be surprised how purposeful you can make a 10 second hook!

Take advantage of our app's 'intro strap' that includes your name and title. You don't need to verbalise this in the delivery of your hook if you don't want to. Audiences are discerning so its important to get to the point.

Remember that video is a visual medium and to 'show, don't tell'. With practice you will become more efficient writing content and this will allow you to plan your scripts better. If you are intending to add captions, images and 'broll' video footage, this will remind you to write less in parts of your content because the overlays you use will translate the detail for you.
2. Body - 'What's in it for me? ' (WIIFM)
Keep your audience front of mind when developing your content. It's imperative that you answer the 'what's in it for me?' for your audience! Ads are a marketing tool so think about the elements that you really want to highlight to engage job seekers!
Use the below headings as a guide to structure the next part of your content.We recommend you select only two or three bullet points in total from the below headings to focus on and to build your WIIFM - you simply won't have time to cover them all. Company insights
Provide information and insight into the company and its values, so job seekers can work out if there's a good fit. Share the basics, like, what sector the company is in, its size and location(s).
Share something about the hiring manager to which the new role will report to or consider doing a video with them!
Talk about what makes the company unique and share some insights about the culture of your workplace
Key attributes
Outline the key attributes you are looking for in a candidate, based on the skills, experience and competencies required to do the job
Video gives you the opportunity to share even more insights with regard to the 'nice to have' soft attributes and culture fit
Job opportunity
Outline what the opportunities are for the jobseeker in this role
What they would learn, what their role will contribute to the business and what the future career prospects might be
Share as much as you can about how the jobseeker will contribute to the success of the team and organisation
Remuneration and hiring process
Share the salary or contract rate and any insight into the hiring process that is available
How many interview stages there will be and the number of people involved in panel interviews?
Which dates decisions will be made about the role
3. Closing - 'Call to Action' (CTA)
Close your video by clarifying what the next steps are, more precisely, what is your CTA? Make sure you add a job link that the viewer can click on to apply for or learn more about the role. You might refer to your contact details which will appear in the 'outro strap' for those who have a question for you. It's good to tell jobseekers that you would welcome their resume, a phone call or an email to discuss the opportunity further and you could even ask viewers to share your video if they know somebody who they think might be interested in the role. End with a friendly gesture such as 'Thanks for watching' and don't forget to smile!
Remember...
Keep it succinct! Interested candidates have the option to select the 'apply now' link or to reach out to you if they want to learn more

Avoid solely making your video about what you need the candidate to have or do for you. Include how the role or company will contribute to the candidate.

The beauty of video is that you can make it far more personal than a traditional written ad so remember to be yourself. Keeping content 'conversational' will help you stay authentic!
Do not copy and paste a text job ad. We don't speak the same as how we write these ads and it'll feel unnatural and inauthentic to deliver. Think of how you would discuss an opportunity to a real person, then write that down!
The person in your video should be the same person that candidates meet at interview. Avoid layering on a 'business' or 'professional' persona - you already are a professional! Audiences can see that. No acting required!
The information you include is key to attracting relevant and quality talent. In our experience, if you keep your videos to less than 90 seconds, candidates are more likely watch the entire ad and you will have kept them engaged.
---
Our next post in the blog series will be all about your technical set up – lighting, camera and your smartphone 🎦📱
Thanks for reading and have fun creating your own video job ads!