Welcome back to our three part series 'Making Your Best Video Job Ads', this time we are going to cover all of your options when it comes to your set up for filming great video job ads.
Last week's blog was a guide to structuring great content. This instalment will help make your videos look and sound great, by focussing on these key elements: camera, background, lighting and sound. Become your own location scout at work and find the best areas to film in to ensure your videos look and sound professional.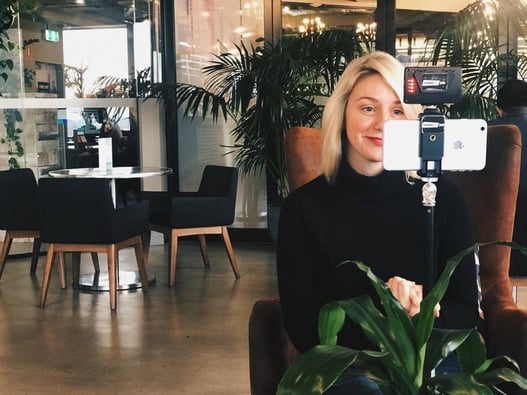 (For some extra help with filming & technical setup head over to our support hub ➡️ click here.)
Camera
The VideoMyJob App is designed to easily record your video using your smartphone. The HD camera in most smartphones produces great quality video and the teleprompter in our app works hand in hand with your phone camera.
We highly recommend using a tripod to keep your footage still and your camera at eye level. You can lengthen or shorten tripods, giving you the option to stand or sit. Do what feels comfortable!
Use the app's spirit leveller to ensure you are shooting at a straight angle and use the app's silhouette to ensure you are positioned correctly in the frame
Always turn your phone sideways and record in landscape
You may wish to switch your phone to the 'Do Not Disturb' mode when filming to avoid alerts coming through and disrupting your flow!
Background
The background in your video helps to tell a story and convey your intended message or opportunity. Remember, 'a picture paints a thousand words and a video paints a thousand pictures'!
Before you begin, consider your background. Find environments that offer depth, like an open plan office space or reception. This allows audiences to gather more information about that workplace and/or your relationship to it
Film in spaces where you feel comfortable and relaxed in. If you prefer somewhere that is more private, then find a meeting room or quieter space with an interesting background. Alternatively, do your videos first thing in the morning when there are less people around!
If your filming environment is lacking in depth, interest or colour then focus on building a mini media library for yourself that has saved images and 'broll' video footage that you can overlay later to demonstrate the work culture, opportunities, professional relationships, etc.
Avoid white walls and plain backgrounds that don't add to the visual engagement of your video
Lighting
Lighting is an essential consideration when filming to ensure your video is professional and doesn't look 'home-made' !
A clean spacious room filled with natural light is always a great option
When filming near windows, ensure you are facing the natural light. If the back of your head is facing the window, you'll increase the chances of overexposure in your shot and shadows may be cast across your face. This is the 'home-made' feel you definitely want to avoid!
If you do not have the luxury of having windows or lots of natural light in your workplace, then ensure you are in a space that has plenty of office lighting
As a rule of thumb, if you cannot see yourself clearly in your phone's recording frame,

then find another space to video in!
Additional lighting from directly in front of you, whether you have access to natural lighting or not, is a great option. We recommend attaching the LED panel included in our hardware kit to your phone tripod, this will give your video a professional edge.
Sound
Sound is a major element to ensuring you create a professional video.
The inbuilt mic on your smartphone produces good quality audio
For optimum sound, record your video in a quiet space
Avoid videoing in specific areas at 'peak' times. Doing your videos at the start or the end of the day may be better if there is less noise and chatter going on around you.
If you're filming outside or in a loud area, it's best to use an external microphone that attaches to your phone t

o filter out background noise and to pick up your voice clearly.
For extra help check out our How-to videos here: HOW TO📱.
---
Our next post in the 'Making your best Video Job Ads' series will be all about presenting on camera – how you can best present your content, environment and yourself to ensure your video job ads are the best they can be.
Thanks for reading and have fun creating your own video job ads!