Welcome to the first edition of The Co-Lab... Your Quarterly VideoMyJob Product Newsletter! We'll be sharing all the latest updates, tips and tricks, and user insights and wins.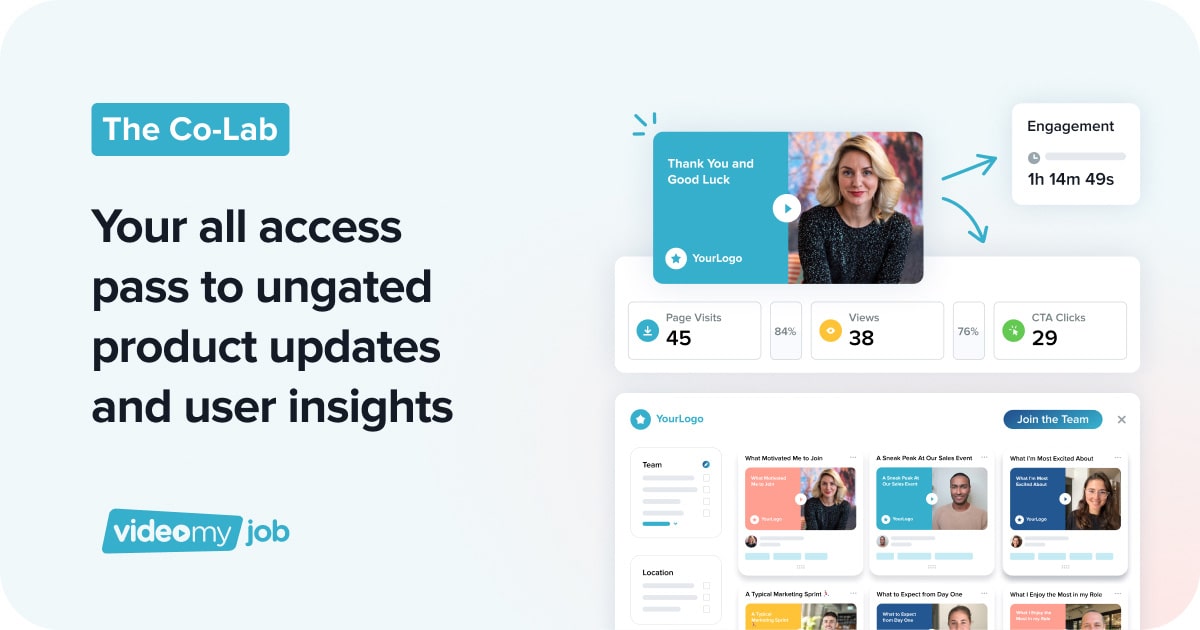 WEB
Web Recording
Collecting videos has been made so much easier! You can now record yourself directly from your web browser, or send video request/s to other team members for them to record from their web browser using their laptop, mobile or tablet.
WEB
Story Feed Analytics
Story Feed Analytics is live, giving you a whole new insight into content performance. Sharpen your strategy and make informed decisions by tracking popular videos and reviewing the most engaging content.
APP
Split View & Caption Timing
The In-App functionality now lets you easily split your video/s into smaller clips. Plus we've made it easier for you to add captions to match your overlays to improve your editing process.
Sneak peek our coming soon features...
✏️ Quick Editing
🎨 Cover Image Edit
🗂 Campaigns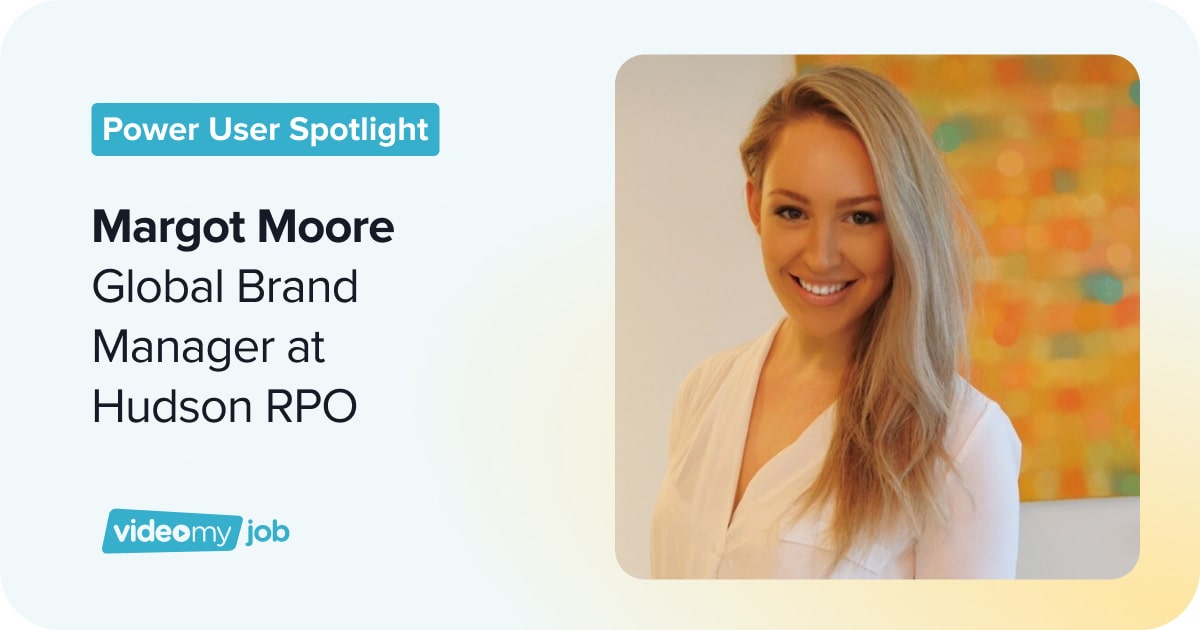 We're excited to feature Margot as our Power User Spotlight for this edition. She's an experienced marketer who started her career as a recruiter, and now specialises in employer brand and recruitment-focused integrated marketing communication strategies as part of her role at Hudson RPO.


Q: Margot, can you tell us about the problem/s you were trying to solve in the lead up to implementing VideoMyJob?
We've been using VideoMyJob for years. I wasn't involved in the initial implementation, but I was involved in the Story Feed Pilot Program.
At the time we had just gone through an internal Employer Brand refresh and identified our key brand pillars. As a result, we were clear about the messages that we needed to get out to the market, however we didn't have an easy way to execute this and involve our actual people.
We were aware that the best way to tell stories is through people's experiences and letting the real voices of the organisation be the ones projecting that message. So, for us, we needed a really easy way to get content out there, but more specifically VIDEO content.
Second to the employer brand message, was being able to talk about our job opportunities. Most of our teams are client side, but when it came to our own internal recruitment for our business, we needed to inject some creativity into our own advertising of job opportunities.
One of the key issues we needed to solve was how do we get more engagement on our own job postings and explain to the market (in more ways than just a job ad) what it's like to work here and what the role entails.
Q: Can you talk us through your process for solving these issues?
Well, we knew video is the most engaging form of content, and we needed a tool that was both user friendly and easy for everyone to access.
Giving people the opportunity to film from their phone was key, which made VideoMyJob the perfect tool, BUT the challenge was getting people to use it!
In my experience people tend to shy away from using video, and it can be overwhelming when you're initially telling them what they're expected to do before showing them.
I remember that initial adoption was a challenge for sure. It took months and months of trying to push people to try it before we got traction.
I created user guides with step-by-step instructions which included our brand guidelines. We did face-to-face training which worked really well for those that could attend but wasn't always possible with most people working from home. We then looped in the Customer Success Managers and ran online training sessions to solve for this.
Having myself and a few other subject matter experts in my team also helped. We were then able to create Brand Ambassadors across various teams within the business to take ownership of implementing VideoMyJob within their respective teams.
And as soon as people started to use it, they realised how easy it is. And if any employees were unsure or reluctant, we'd tell them to just film themselves in landscape under good lighting and we'll do the rest.
The consistency of "use this tool, use this tool, use this tool" that my team pushed, worked in the end. Now employees across our global business use VideoMyJob constantly! It's given them access to the company itself, and they feel included and part of the journey.
Q: You mentioned that you're using VideoMyJob for your Employee Stories and Recruitment Marketing. Are there any other purposes or use cases that you're using the platform for?
Yes, we also use it for our internal mobility. So, when roles come up internally, we'll get people who are in that role to talk about their experiences. This has been very particularly successful for maternity leave roles.
And our Senior Leaders use it for internal communications as well.
Q: It sounds like you've had great success implementing the platform across your business. Are you able to share some of the wins you've got as a result of this?
With Story Feed, we've really been able to showcase so much of our broader culture, and we've got great results from it. Some of the recent stats we looked through showed that engagement on our careers site is now 7 times higher than the industry average, in terms of how long people are spending on the widget and Story Feed.
Giving people the option to customise their experience on our website using story feed has really helped capture their attention. And it's enabled us to engage people so much more effectively. Now every single candidate has the opportunity to engage with what's meaningful to them, because one size certainly does not fit all.
The process has also helped us get cool content out to the market without putting a whole lot of energy into it, which in turn has also really helped us engage our own people. We're essentially providing a platform for employees that get energised by seeing their employee stories and video content online and on our website. As a result, our employees have gotten really creative with their videos, and they look to the tool as a fun way to bring their ideas to life.
Another win has been the engagement from our recruitment team for our internal recruitment. Getting them to adopt this piece of tech has really elevated their communications and the way they engage with potential candidates. It's also elevated their employer brand state of mind. They're getting to see how doing something different has had a positive impact, so they're more open to other avenues of employer branding initiatives as a result.
From an Internal Mobility perspective, it's just opened up a more engaging avenue for us to talk about internal career opportunities and people moves. Previously we struggled with a communications strategy in this space, and VideoMyJob has opened up a portal for this. Now our team does a fortnightly newsletter about internal opportunities which has a video component.
Q: Are there any tips or advice you'd like to give other users in the VideoMyJob community that might be struggling with adoption?
There was definitely a period where I questioned whether we would get wide-spread uptake in using VideoMyJob, but resources, training, guidance and consistency is key!
Another tip would be providing feedback about the videos that are being submitted. For example, if it's poor quality, then take them through why, be specific in your guidelines about what makes a good video and make sure they understand the objectives to ensure they're not only creating good content, but that the video quality is good too.
We've recognised that the platform allows us to build our employer brand, but it also allows the individual employee to build their personal brand. The more content that you're putting out there, the more your employees have to go off - so they get a feel for what videos you're posting and publishing. This also allows them to share the content to their own networks and personal platforms, in turn empowering them to create content that they can share. It's a win, win!

The Best Practice Award 🏆
We love seeing how you're using VideoMyJob as part of your TA and EB strategy. In this segment we'll be sharing our best practice picks, giving you inspo from your fellow VMJ Community. In this edition we've chosen Allegis Global Solutions and people2people for their Story Feeds because it's ticking all the boxes!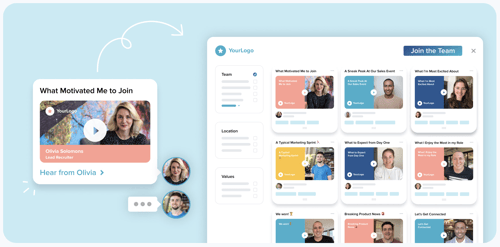 ✅ Video content has variety showcasing diversity across their people, culture, gender and roles
✅ They have their profile pics set up on every video, adding a level of authenticity
✅ Tags have been used to categorise and filter videos making it easy for candidates to engage with content that is most relevant to them
✅ CTA that leads the candidate to the next stage in the journey
If you'd like some further guidance, check out our "Story Feed Best Practice" article.
Company News
Bodin Pollard Returns
We're very happy to welcome Bodin back to VideoMyJob as the new Customer Success Lead & Strategist. He's really excited to catch up with you all soon and wanted to introduce (or re-introduction) himself.